Simple Golden Neutral Eye. (plus a second touch)
Completely obvious, probably, but this classic should be in the lookbook anyway. :D
Upper - Half Baked from inner corner to the lid. Twice Baked in the creased and the outer V. UD 24/7 Pencil Liner in Zero is also lightly used to line the eyes and slightly smudged with Twice Baked.
Note: I did not use mascara, brow kit, or any other product in these pictures.
Lower Line - Twice Baked were put in the lower water line, concentrated in the corners and fade out to the middle (for the bigger eye effect). Optional (right eye)- put Minx below the lash line and around the corner while winged it out concurrently or over with the liner.
Rest of the Face - I think this look would complement with the orange trend. Blue clashing with orange, yes, but it's all depend on how you wear it. You can try going bold orange, but for more casual and relax look, tone down the orange to fit your natural tone, offering a hint of peachy/orange-whatever-closest-in-your-collection. The subtle complementary contrast will draw attention on your gorgeous pop of aquamarine without blinding or scaring kids away. ;)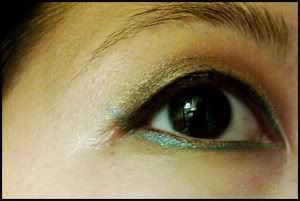 Have fun!